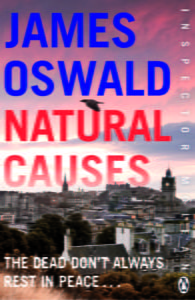 Natural Causes
The first of the Detective Inspector McLean series.
A young girl's mutilated body is discovered in a sealed room. Her remains are carefully arranged, in what seems to have been a cruel and macabre ritual, which appears to have taken place over 60 years ago.
For newly appointed Edinburgh Detective Inspector Tony McLean this baffling cold case ought to be a low priority – but he is haunted by the young victim and her grisly death.
Meanwhile, the city is horrified by a series of bloody killings. Deaths for which there appears to be neither rhyme nor reason, and which leave Edinburgh's police at a loss.
McLean is convinced that these deaths are somehow connected to the terrible ceremonial killing of the girl, all those years ago. It is an irrational, almost supernatural theory.
And one which will lead McLean closer to the heart of a terrifying and ancient evil . . .
---
UK Print ISBN: 9781405913140
UK eBook ISBN: 9781405913157
---

---
Buying links:
UK
Print – Amazon – Waterstones – Hive
eBook – Amazon – iBooks – Hive – Kobo
Audio – Amazon – iTunes – Kobo
---
US
Print – Amazon
eBook – Amazon – iBooks – Kobo
Audio – Amazon
---