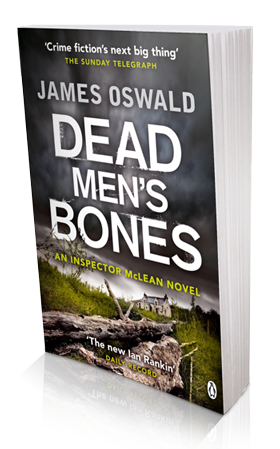 I can't believe it's almost July already. I've been meaning to post about this for ages, but time has been so short it could get a starring role in the remake of Time Bandits. I've been busy writing McLean book five – still searching for a suitable title – and preparing the first three Benfro books for their imminent publication. All very exciting, but even more so is the arrival in all good bookshops of McLean book four – Dead Men's Bones.
In celebration of this momentous occasion, there will be a launch party at Waterstones Argyle Street in Glasgow next Thursday, 3rd July. Why Glasgow, I hear you ask? Surely McLean is an Edinburgh cop. Lothian and Borders. Well, in the spirit of the new Police Scotland, the launch can be anywhere. Also they asked nicely if I'd do it there.
Kick off is at 7.00 pm. Tickets are free, but you need to get one so they know how many people are coming. More details here.
If you can't make it to Glasgow on the 3rd, I'll be doing a few signings and other appearances soon. Keep an eye out here for more details just as soon as I find the time to post them.