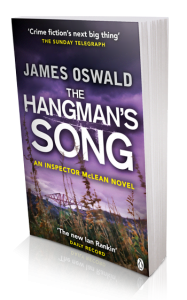 So tomorrow I will be boarding a plane at that Edinburgh Airport, heading for Heathrow and then on to Los Angeles. I have a short, LA-centric book schedule, culminating in a panel appearance at this year's Bouchercon in Long Beach. Since it all starts very soon, I probably should have let the world know a bit earlier. Things like farming, writing and building a house rather tend to get in the way though.
This is my US schedule, anyway. If you're interested. If not, then click here for a picture of a cow.
I'm sure this will make it to YouTube or somewhere for those of us who don't have direct access to the broadcast. To say that I am nervous would be something of an understatement.
Wednesday November 12th – Vroman's Bookstore – Stock signing 12 noon.
I'll be at Vroman's 695 E. Colorado Blvd, Passadena CA91101, defacing valuable books with my name. Drop in if you want something personalised.
Update – Due to reasons, this event has been cancelled. Sorry for the inconvenience. Signed copies of my books will be available at Bouchercon.
Thursday November 13th – Anne's Bookends – Author Talk, Reading, Q&A.- 7pm
Anne's Bookends, 348 S Tustin St, Orange. Talking about my books, my unconventional route to publication, cows, sheep and anything else that comes to mind. If you're lucky I'll read my favourite piece from The Hangman's Song.
Friday November 14th – Bouchercon panel – "Great Scot! From Scotland, with Murder" – 8.30am
The Long Beach Convention Centre, 300 E. Ocean Blvd., Long Beach – Promenade B.
Panel discussion about Scottish Crime fiction, with Catriona McPherson, Caro Ramsay and Craig Robertson, able chaired by Kathryn Leigh Scott. Highland Cows may be mentioned in passing. There will be a book signing immediately after the panel. I am there for the whole of Bouchercon, most likely at or near the bar, so do come up and say hello if you see me. I won't bite.